Coolstar, the sustainable and economic solution for new plastics
26 September 2019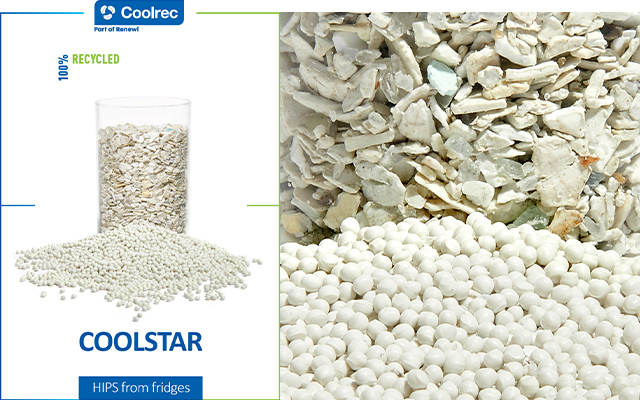 At Kunststoffenbeurs 2019, the focus of Coolrec, a subsidiary of Renewi, will be on the introduction of its new circular polystyrene (HIPS) regranulate called Coolstar; a granule with a >98% purity that can be used as a sustainable economic solution for 'virgin' plastics. From discarded fridges to fully recycled regranulate, Coolstar offers a directly applicable granulate solution in three quality levels: Coolstar Circular, Coolstar Plus and Coolstar Master.
Discarded fridges, too, consist of valuable raw materials. That is why Coolrec collects the appliances from various European countries in order to then dismantle and break them up at its own sites. During this process the raw materials are released in various fractions and separated according to, for example, metals, coolants and plastics. The plastic fraction, which forms the basis for Coolstar, is then sorted into various categories according to the type of polymer. This is carried out using float/sink and electrostatic techniques. In the final phase this fraction is converted into high-quality regranulate or customer-specific formulations.
"With the introduction of Coolstar, Coolrec has reached an important circular milestone. From discarded fridges to fully recycled HIPS granulate, Coolstar provides an excellent example of Coolrec's vision of the circular economy," says Dieter Avonds, director at Coolrec. "I'm very proud of this exciting launch and the resulting initial interest from the market. Even before we have introduced this new granulate worldwide, interest has already been shown in our new product. By Salentijn, a manufacturer whose products include plastics used for food and drink tokens. A good circular collaboration!"
Quality guarantee
At Coolrec quality has the highest priority. In order to guarantee the high quality of the new granulate, the WEEE recycler has implemented quality routines in the various processing phases. For example, in order to guarantee the highest performance of the HIPS, the purity is tested with an near-infrared spectrometer. In addition, the plastics are comprehensively analysed in order to meet the highest technical standards. The regranulate is also sampled and tested according to the ISO standard after which a certificate of analysis (CoA) is issued separately for each batch. "Being and remaining aware of the materials coming in and going out is crucial in this recycling process. Quality must be ensured at all times, also when the materials leave our buildings," adds Avonds: "We can for example also carry out customised work even by modifying the process regarding the materials in accordance with the wishes of the customers, whilst usually the reverse is actually the case. Anything to achieve the optimal result. Together we can get the most out of recycled plastics thereby contributing to the circular economy!"
The new circular pellet is now available in three different quality levels, proof that recycled plastics are available tailor-made for customers' specific applications.
Coolstar Circular: a 100% recycled white pellet without additives that can be used directly for most injection moulding applications.
Coolstar Plus: similar to Circular, but with an extra step in purity thereby making it ideally suited for 3D printing, detailed injection moulding and (sheet) extrusion applications.
Coolstar Master: this involves an optimally recycled HIPS composition with high impact strength that can be prepared according to the specifications of the customer.
---